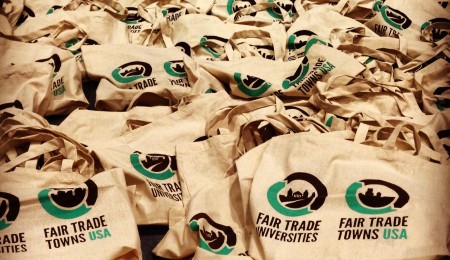 Fair Trade Grass Valley
The Fair Trade Grass Valley campaign is a growing organization that both advocates and educates the importance of fair trade and how it impacts the community. We believe in transforming lives for a better tomorrow. Our goal is to educate the concept of fair trade and to work with local retail stores to be certified to purchase fair trade products. Let's make Grass Valley a fair trade town.
Contact this Campaign
Campaign Progress

Build Your Team
The Fair Trade committee provides leadership and direction for your campaign.
Completed October 11th, 2016

Reach out to Retailers
Work with retail locations in your town to offer two or more Fair Trade products.
Completed October 23rd, 2016

Engage Your Town
Each town must have a certain number of community organizations using or serving Fair Trade products.

Get Some Love from the Media
Broadcast how local action can deliver life changing benefits to farmers and artisans.

Engage Your Local Government
Build long-lasting relationships with your local government and pass a Fair Trade resolution.
Recent Tweets

@fairtradegv
Rain or shine, the weather can't stop us from selling fair trade products!

@fairtradegv
Urghh the urge to eat chocolate is very tempting 👮🏻

@fairtradegv
Its hard purchasing 15 chocolate bars without the cashier judge you while death starring. #letmebe #fairtrade https://t.co/XJ6xqdKZLM
Photo Gallery
Fair Trade Locations

Retail Locations

Community Organizations
Resources
Members