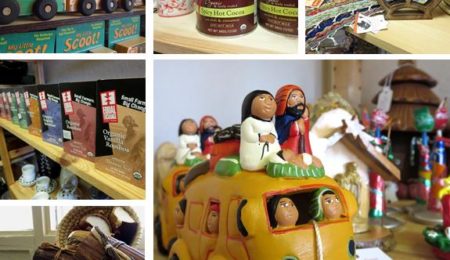 Fair Trade in Phoenix
WHEAT is a nonprofit Arizona based anti hunger and poverty organization involved in the Fair Trade Movement since 1990.
WHEAT's mission is to educate, advocate, motivate and empower individuals to action. WHEAT and its Fair Trade Initiative, the Hand to Hand Project, work toward global economic equality by engaging our staff and volunteers in positive advocacy efforts at the local and national levels. WHEAT also provides our communities at large with another way to shop and learn more about the ways fair trade is making a difference locally and globally through its Fair Trade store.
We encourage others to join us: FairTrade@HungerHurts.org
Contact this Campaign
Campaign Progress

Build Your Team
The Fair Trade committee provides leadership and direction for your campaign.

Reach out to Retailers
Work with retail locations in your town to offer two or more Fair Trade products.

Engage Your Town
Each town must have a certain number of community organizations using or serving Fair Trade products.

Get Some Love from the Media
Broadcast how local action can deliver life changing benefits to farmers and artisans.

Engage Your Local Government
Build long-lasting relationships with your local government and pass a Fair Trade resolution.
Recent Tweets
@WHEATorg
Celebrate World Fair Trade Day with WHEAT Sat, May 12 - 30% Off Plus Fair Trade Chocolate and Ice Tea Samples https://t.co/1nIHHFa34c
@WHEATorg
Join us May 2 at Matthew's Crossing https://t.co/FHy6n70Fiw https://t.co/JPgif5uC8F
@WHEATorg
Please Join Us...HEROES SHOULDN'T GO HUNGRY: A panel discussion on military hunger https://t.co/SyISbx13Uw #vr4smallbiz
From Our Blog
May 16, 2018
Every month, 850,000 Arizonans rely on the Supplemental Nutrition Assistance Program (SNAP) to put food on the table. Half of those that use SNAP in our state are children. Another 18% have a disabili...
April 12, 2018
Request for Proposals for Funding to Supplement Emergency Food and Shelter Programs in Apache and Navajo Counties Is Announced Phoenix, AZ, May 7, 2018 – The Arizona State Set Aside Committee of th...
Photo Gallery
Fair Trade Locations

Retail Locations

Community Organizations
Members