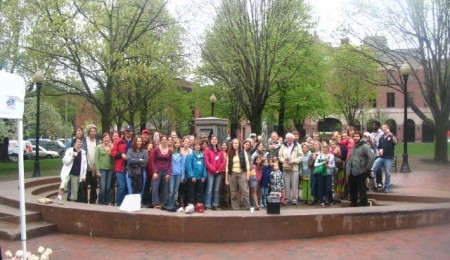 Burlington, Vermont
Fair Trade Burlington's campaign broke the ice during winter of 2009 and has been submerged in excitement ever since! After earning its designation of 12th Fair Trade Town in August 2009, the committee put an emphasis on organizing events and planning for the future. The committee is comprised of volunteers from the University of Vermont, including students and faculty, local retailers, health food store employees, Vermont Fair Trade wholesalers and local advocates.
Contact this Campaign
Campaign Progress

Build Your Team
The Fair Trade committee provides leadership and direction for your campaign.

Reach out to Retailers
Work with retail locations in your town to offer two or more Fair Trade products.

Engage Your Town
Each town must have a certain number of community organizations using or serving Fair Trade products.

Get Some Love from the Media
Broadcast how local action can deliver life changing benefits to farmers and artisans.

Engage Your Local Government
Build long-lasting relationships with your local government and pass a Fair Trade resolution.
From Our Blog
Upcoming Events
March 24
Free Trade Agreements were intended to promote trade and boost economies. However, with the combination of corporate influence and developmental inequality, some economies have benefited while other, particularly those in the Global South, have suffered. People are encouraged to arrive at 11:30am to participate in a PJC New Volunteer Orientation.
Fair Trade Locations

Retail Locations

Community Organizations
Members