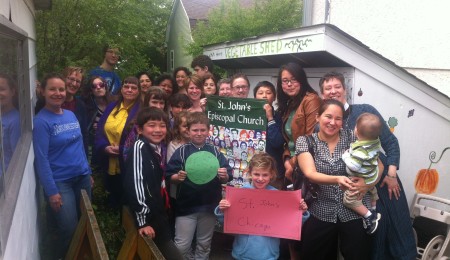 St. John's Episcopal Church
The Genesis Group started the conversation about sustainability in our church, homes and community by giving away free cfls in January of 2007. Since then St. John's has switched to cfls and Fair Trade coffee and tea, changed to cloth napkins and biodgradable tableware, invested in Eco-Palms for Palm Sunday, partnered with two local farms to bring organic produce and humanely raised meats to our community as a host drop site, installed a tankless water heater and many other small projects to make a difference.
Campaign Progress

Build Your Team
The Fair Trade committee provides leadership and direction for your campaign.
Completed January 28th, 2016

Commit to Fair Trade Education and Events
Educate members of the congregation about how Fair Trade empowers them to live out their religious tradition.
Completed February 16th, 2017

Source Fair Trade Products
Replace goods purchased by the congregation with Fair Trade products.
Completed February 16th, 2017
Recent Tweets

@iamstjohns
Let's get a group together! https://t.co/RAFUPBdil3

@iamstjohns

@iamstjohns
Photo Gallery
Fair Trade Products
Members