Two Ways to Put Pressure on the Cocoa Industry with Catholic Relief Services & Global Exchange
There are a lot of great organizations that are supporting the Fair Trade movement and putting pressure on the cocoa industry. Here is information on two of our partners for the Back to School cocoa program; Catholic Relief Services and Global Exchange.
Catholic Relief Services (CRS)
Background
Catholic Relief Services is the official international humanitarian agency of the Catholic community in the United States. CRS is motivated by the example of Jesus Christ to assist the poor and suffering in 93 countries around the world on the basis of need, without regard to race, religion or nationality.
The Catholic Relief Services (CRS) Fair Trade Program partners with Fair Trade organizations, trains volunteers, and provides education as part of our Gospel call to assist the poor and vulnerable around the world. One way in which we are carrying out this mission is through our involvement in the cocoa industry.
Cocoa Purchasing
At the core of our program lays the belief that all human beings deserve to work with dignity and respect. Through our partnerships with SERRV/Divine Chocolate and Equal Exchange, we provide ways to purchase Fair Trade chocolate that supports cocoa farmers from cooperatives such as Kuapa Kokoo in Ghana and CONACADO in the Dominican Republic. In partnering with these fully committed Fair Trade organizations, we are consciously choosing to stand in solidarity with cocoa farmers across the world. Moreover, each time a purchase is made from one of our partners we receive a contribution to the CRS Fair Trade Fund, which goes to support CRS' overseas programs.
Spread the Word
Meanwhile through the CRS Fair Trade Ambassador Program and the CRS Campus Ambassador Program, we equip volunteers to spread the message of Fair Trade in local communities, schools, universities and churches. From presentations to sales, our Ambassadors are at the forefront of the movement providing education and outreach about Fair Trade chocolate, coffee and crafts.
Interested in learning more about the CRS Fair Trade Program or becoming an Ambassador?  Visit our website crsfairtrade.org and check us out on Facebook, Twitter and Pinterest!
 Global Exchange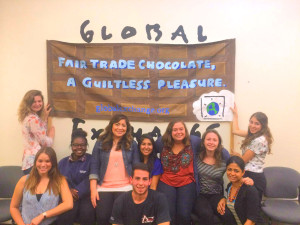 Background
Global Exchange has been dedicated to promoting social, economic and environmental justice since 1988.  We work to change the rules across the globe and to shift from a profit-centered global economy to thriving, local, people-centered economies.
Cocoa Campaign
We have recently focused on chocolate because of serious issues relating to child and forced labor in the cocoa industry. Meanwhile cocoa is a great way to introduce the concept of Fair Trade to chocolate lovers and to open a dialogue about poverty in the global economy.
After six years of campaigning, we were successful in convincing Hershey's to make the switch to ethically sourced cocoa.  Earlier this year, Hershey's vowed to work towards using 100% certified sustainable cocoa by 2020.  Following this victory, we saw the true power of consumer pressure and decided to target another cocoa offender and a true San Francisco institution – The Ghirardelli Chocolate Company. Since we launched our campaign late last year urging the company to label its chocolate as certified Fair Trade, over 700 letters have reached the desks of Ghirardelli executives and over 10,000 people have raised their voices asking for a Fair Trade label.
Join the Movement
We would like to see more corporate giants follow in Hershey's footsteps, as well as continued growth and support for the Fair Trade movement, and we know that your help could make that possible.  You can help by supporting the campaign here. For other ways to get involved, like sending a letter directly to Ghirardelli executives, you can visit our online portal here.
Make sure to follow progress on our blog.  You can also follow us on Twitter at @globalexchange and @GXFairTrade, on Instagram @globalexchange and @gxfairtrade and of course, like our Facebook pages here: GlobalExchange and GXFairTrade