Organizer Spotlight – Ben Conard
Ben Conard – SUNY Geneseo
The Fair Trade movement would not be possible if it weren't for spontaneous motivators like Ben Conard. Ben has dedicated the past few years of his life to the Fair Trade movement through this work both as the co-chair of the National Fair Trade Colleges and Universities Steering Committee and as the head organizer of the Fair Trade Campaign at the State University of New York (SUNY) at Geneseo, where he studies Business Administration. I recently had the opportunity to sit down with Ben and discuss his passions, goals and experiences in the Fair Trade initiative.
Here is the script of our interview: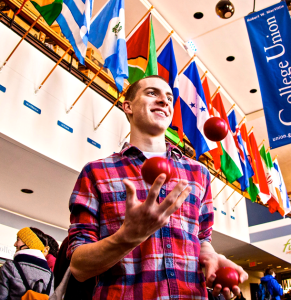 What's your favorite Fair Trade product and why?
My favorite fair trade product would probably have to be chocolate, mostly because it's generally a higher quality bar of chocolate when it's a Fair Trade bar of chocolate. And, generally speaking the dark variety of Fair Trade chocolate is very high cocoa content and I like that because it's healthier but also just tastes more genuine and authentic.
What's your favorite event you've hosted or participated in and why?
I would say my favorite event was a block printing event that we did. We had a table with Fair Trade t-shirts from Freeset for the first hundred students to come and take. We taught them all about what block printing is, it's an ancient art form in India to print on linen. We had authentic Indian blocks from India and ink that people could dip their favorite design in whatever color they wanted and they could decorate the t-shirt however they wanted. They got pretty creative with it and it was pretty fun!
Why do you value Fair Trade?
I value Fair Trade because I feel that when I participate in the Fair Trade movement and when I buy a Fair Trade product I'm doing business justly.
Do you have any future goals for your campaign?
Some future goals for my campaign…I mean, the short term goal I guess would be to become a Fair Trade University. That would be very exciting, especially if it were able to be accomplished in my time there, I have one year left.
What's left is passing a Fair Trade resolution with our administration. And we need a few more products on campus available at a couple of outlets to make that possible.
Who's the most inspirational person in your life? Or someone that inspires you in this movement?
There are multiple people that inspire me. One of the most inspirational people in the Fair Trade movement, for me, has been Anne Kelly of Mayan Hands. She has been doing Fair Trade with Mayan Hands for a very long time and I find that she looks at the Fair Trade movement in such a special way and is just so patient with kind of moving it forward. She did serve on the national steering committee for Fair Trade Colleges and Universities. And, I had such a good time learning with her and working with her.
So I hear you went somewhere fun recently, Milan right? Tell me about that.
In May I went to Milan, Italy for the World Fair Trade Organization conference. I was a communications intern for the WFTO for the past 6 months and then I went to Italy with them and worked for them at the conference, which was really exciting because I got to work with over 270 people representing 60 countries at the event.
I was able to see the Fair Trade movement on such a broad perspective of retailers, wholesalers, advocates, various advocacy organizations. I got to see kind of where the Fair Trade movement stands in different parts of the world because in some areas it's very developed, in some areas Fair Trade is a new concept. For example, in some developing world countries where Fair Trade products are coming from, Fair Trade Campaigns are starting there. You'll find that some towns where Fair Trade products are being produced, the citizens are wanting to participate in Fair Trade on a different level and actually support their local farmers or producers and purchase themselves.
How was the conference set up?
It was 4 days long with everything from speakers and workshops every single day to a Fair Trade cooking show, a fashion show, and a few other things.
There was also the premier of the True Cost, which was really cool. So a lot of things were happening that you never really felt bored.
On a silly note, what's the craziest thing you've eaten while travelling abroad?
Well, abroad I've only been to India, Italy and Germany. During all of those trips I was a vegetarian so no crazy meats, although that wouldn't have happened in India anyway because they don't really eat meat that much. Didn't eat anything crazy in Italy or Germany. I guess the craziest thing was just like ridiculously spicy food in India. One of them being Domino's pizza. They put curry in their plain cheese pizza because they just put it in everything!
How long were you in India?
Ten days. That was my very first trip to origin. We visited three different Fair Trade workshops, one of which my uncle owns, which is the primary reason we went. That one actually does block printing on table linens, so that was really cool.
Fair Trade Campaigns wants to extend a huge thank you to Ben for all he does to support the Fair Trade movement! We can't wait to see where he goes from here!