For the Love of Fair Trade: Spotlight on St. Martin of Tours Academy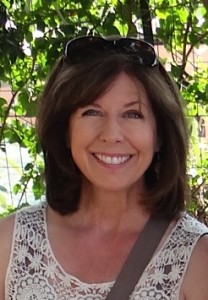 St. Martin of Tours recently became the 21st Fair Trade School in the U.S. We sat down with campaign organizer Anne Pacheco to hear her story and learn more about their campaign…
I love Fair Trade! I love every bite of a Fair Trade piece of chocolate, every scoop of Fair Trade ice cream and totally enjoy my daily Fair Trade cup of coffee! Why? Not only for the taste but because I know these purchases support the people who are a part of the supply chain (the women and men who work to pick the pods of cocoa, vanilla & coffee beans for example). Many people were involved in bringing Fair Trade Campaigns to San Diego, California, helping us to enjoy something that is ordinary here which has extraordinary impact in other parts of the World. I am grateful that St. Martin of Tours has been declared a Fair Trade School which goes towards supporting the fair payment, treatment, health and happiness of of those who work hard to bring us these yummy treats!
An advocate for Fair Trade since 2006, as part of the Social Justice Ministry at St. Martin of Tours Catholic Church, I learned that Fair Trade is NOT charity. Instead of donating money, everyone can make a difference by purchasing Fair Trade products. Catholic Relief Services advocate Nancy Ryan and I began attending meetings at San Diego Fair Trade where President Dawn Stary led a group of advocates to help spread the word about Fair Trade. Working together we learned about the Catholic Relief Services (CRS) Fair Trade advocacy program, which focused on educating the public about the meaning of Fair Trade labels on products.
Stemming from this work, Nancy and I co-chaired La Mesa Fair Trade. We created brochures and materials and gathered supporters to create the La Mesa Fair Trade Committee. We set up speaking engagements with non-profits, service organizations, congregations and others in our city of La Mesa for the next two years. In 2012 we met the criteria to have La Mesa designated as a Fair Trade Town. We flew to Chicago to receive the certificate for our city and participated in the Fair Trade Campaigns National Conference.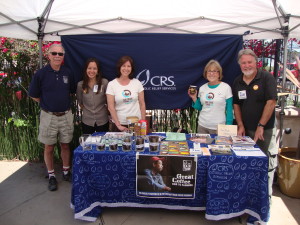 Nancy and I became Fair Trade Ambassadors for Catholic Relief Services, the official overseas relief and development agency of the Unites States Conference of Bishops. We attended workshops and trainings and have spoken to numerous groups over the past 3 years. During this time, our parish met the criteria to become a Fair Trade Congregation, and I worked to promote Fair Trade throughout our school. A committee was formed and on December 1st,  2015 , St. Martin of Tours Academy, became the first Fair Trade Elementary School in CA and the first Catholic Elementary School in the U.S.
Getting to know Anne:
1) What is your favorite Fair Trade product and why?
I treasure every piece of Fair Trade jewelry I own. I think of the women who have made them and this gives me time to reflect as I look at my other jewelry which could have been made by slave labor or at the lowest cost possible for the artisan.
2) What was your favorite event that you've hosted or participated in?
I have organized the La Mesa Fair Trade Gift Fair for a number of years. Each year in October we bring together as many local Fair Trade vendors as possible to sell their products. Our Fifth Grade students also sell products from the SERVV and Equal Exchange catalogs. It has been a tremendous success each year and continues to grow.
3) In one sentence, why do you value Fair Trade?
Fair Trade gives me the assurance that people and the environment are taken care of throughout the supply chain.
4) What are your future goals for your campaign?
I would like to see more schools and congregations commit to Fair Trade education in San Diego County.
5) What's your favorite Fair Trade recipe?
As a CRS Fair Trade Ambassador, we have access to many Fair Trade recipes during Lent through a program called CRS Rice Bowl. Meatless recipes are highlighted each week using Fair Trade Olive Oil and the country where it is from. I encourage you to go to CRS Rice Bowl's Global Kitchen to check outs some great Fair Trade recipes!