National Farmworker Awareness Week
With March comes National Farmworker Awareness Week – a time to think about and celebrate the farmworkers who make each of our meals possible.
Farmworkers are important and vital members of the food system who work hard to provide the food we get to eat every day! Farmworkers historically have faced many challenges and hardships and still do to this day. Strong leaders such as Cesar Chavez have helped to raise awareness and improve the conditions these hardworking folks face. So, please take some time this March to shed some light on these topics during National Farmworker Awareness Week. We have some wonderful ways you can do so.
This year, FOOD CHAINS, an award-winning documentary film on farm labor and its current state in American fields, is organizing film screenings to start conversations around how to make our nation a safer place for farmworkers. By creating a safe (and entertaining) space to discuss this vital issue, we can raise awareness of what farmworkers face day-in and day-out. This March, we're coming together to further the conversation around farm labor and help create a national movement to change the status quo.
 About FOOD CHAINS: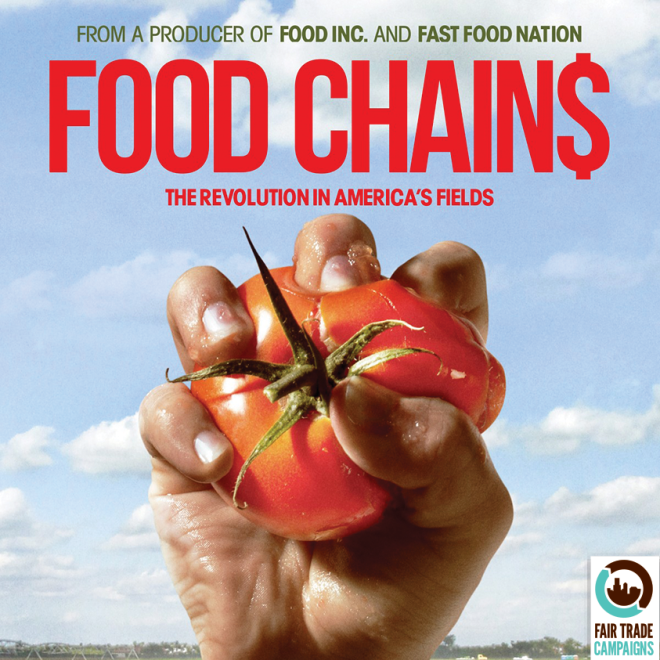 Executive produced by Eva Longoria, Eric Schlosser and Abigail Disney, and narrated by Forest Whitaker, FOOD CHAINS is a ground-breaking documentary film that exposes the abuses rampant in farm labor and reveals the forces behind that exploitation through the narrative of the Coalition of Immokalee Workers (CIW), an intrepid group of tomato pickers in Florida who are battling the five trillion dollar global supermarket industry – and winning.
Here are some great ways to take action with FOOD CHAINS during National Farmworker Awareness Week:
1. Get Creative:
Design a poster to help propel the movement for fair food labor practices!
Three posters will receive $300 for the use of the work and one will be highlighted as the official 2017 National Farmworker Awareness Week poster.
The deadline for submissions is April 15. Submit your design here: http://bit.ly/1S2DoJC. 
2. Attend a screening:
Communities across the country are hosting screenings of FOOD CHAINS during National Farmworker Awareness Week, March 24 through 31. To see if the film is coming to your town, check out the full list of venues here.
Watch the trailer for FOOD CHAINS here.
3. Host a screening:
No screenings happening near you? Bring FOOD CHAINS (in English and Spanish) to your community or organization! Host a screening of the film and help strengthen the conversation around justice in the fields.
To join the film's momentum and bring it to your community, email Rebecca Stern, Campaign Operations Manager, at beckstern@gmail.com.

Check back later for more information on other ways to participate!
Join  FOOD CHAINS in helping to raise awareness about the issues facing Farmworkers this National Farmworker Awareness Week and make an impact!