Party Like It's World Fair Trade Day
World Fair Trade Day is May 14!
This year marks the fifteenth annual World Fair Trade Day. In communities around the world, people will come together to show their support for Fair Trade and celebrate the benefits that Fair Trade provides to producers and their families.
We want to invite YOU to be part of the celebration!
We're so excited to see events taking place across the US and around the world. We've rounded up a few fun opportunities here – and there are so many more! Check out our events page at Fair Trade Campaigns, as well as Fair Trade Federation's event calendar and the World Fair Trade Organization's event calendar.
Attend an Event
World Fair Trade Day Tea Tasting
Atlanta, GA | May 14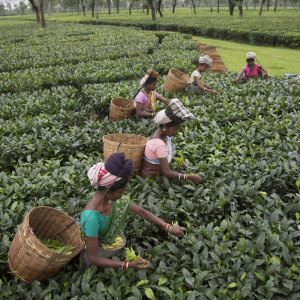 Come to the Bond Organic Market to celebrate World Fair Trade Day with Fair Trade Atlanta. We will be hosting a free tasting and have some fun giveaways.
World Fair Trade Weekend
Claremont, CA | May 13-15
Claremont Village will celebrate World Fair Trade Weekend May 13-15 with stores offering discounts and promotions on their Fair Trade goods all weekend. Come and browse unique selections of Fair Trade clothing, accessories, jewelry, home decor, bath products, chocolate and ice cream, coffee and tea.
Peddler's Creamery Celebrates World Fair Trade Day
Los Angeles, CA | May 14
Peddler's Creamery and Fair Trade LA are teaming up to bring you great ice cream AND make LA the largest Fair Trade Town in the US! Peddler's Creamery sources Fair Trade products for their ice cream that is made on site with bicycle power. They will donate a percentage of their profits on World Fair Trade Day to Fair Trade LA's Town campaign.
World Fair Trade Day Festival
Chicago, IL | May 4-5
Join Chicago Fair Trade for the biggest fair trade event in the USA! Our annual 2-day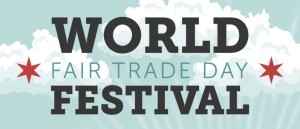 World Fair Trade Day festival and market will take place at Daley Plaza from 9 AM to 6 PM on May 4 and May 5. Shop from the collections of over thirty locally-owned ethical vendors, featuring products made by artisans in Nepal, Ghana, Colombia, and more!
World Fair Trade Day at the Beach
South Bethany Beach, DE | May 14
Join Made By Hand for live music, Fair Trade foods and drinks, and Fair Trade goodies giveaway. Made By Hand's Kimberly Grimes will be signing copies of her new novel, The Amazon Heist, which includes a Fair Trade story.
Old North Fair Trade Market
Evansville, IN | May 14
Join the Old North Fair Trade Market for a day of learning, food, and shopping in celebration of Fair Trade around the world!
Palestine World Fair Trade Day Celebration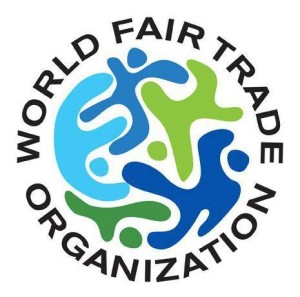 Bethlehem, Palestine | May 14
Bethlehem Fair Trade Artisans (BFTA) is organizing an event in Bethlehem to raise awareness on Fair Trade. Fair Trade is a social movement whose goal is to help producers in developing countries achieve better trading conditions and promote sustainability.
Woven By Women
Panajachel, Guatemala | May 14
Maya Traditions would like to invite you to our annual World Fair Trade Day. Woven by Women celebrates local women artisans and the impact of Fair Trade in rural Guatemalan towns. It is a fantastic opportunity for visitors and locals alike to learn more about the fabrics of Maya culture, the art of back strap weaving and importance of Fair Trade and ethical consumerism.
World Fair Trade Day 2016 at Cox's Bazar Sea Beach
Cox's Bazar, Bangladesh | May 14
Cox's Bazar is home to the longest sea beach in the world. For World Fair Trade Day 2016 we are going to be joining with the CREL team from Winrock International and the Forest Department of Bangladesh to create a long human chain along the beach to raise awareness of Fair Trade among the people of Bangladesh.
Host an Event
There's still time to organize an event in your community!
Organize a bake fair at your school or host a film screening in your community. And sign up for the World Fairtrade Challenge to be part of the world's biggest Fair Trade coffee break – it's quick and easy to join!
Can't make it to an event? Grab a cup of Fair Trade coffee or tea and join the celebration online!
Tag your posts #FairTradeDay and #FTCampaigns