Campaigner Spotlight: Anne Lemke
During my time as a Fair Trade Campaigns Fellow, I've had the privilege of getting to know many Fair Trade advocates all doing amazing work in their communities to advocate for Fair Trade and to highlight other important issues that Fair Trade strives to address.  Among the advocates in our region, I wanted to highlight the amazing work being done by Anne Lemke in Fond Du Lac, Wisconsin.  In addition to serving as the staff advisor for Moraine Park Technical College's Fair Trade campaign, Anne is also involved in Fond du Lac's Fair Trade Town campaign and serves on the Great Lakes Regional Leadership Team.
I took some time to interview Anne about her work with Fair Trade, here's what she had to say…
---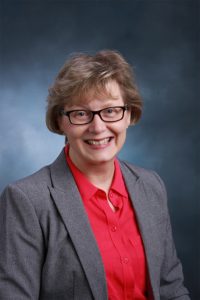 Let's start with your background. Where are you from, where are you working and what do you do there? I was born and raised in Fond Du Lac, Wisconsin where I live currently with my wonderful husband of 37 years, Terry. We have two grown children with one baby grandchild and a second on the way! I work at Moraine Park Technical College, as the Community Impact Coordinator, helping students with service learning, non-credit internships, community engagement volunteering, global studies and leading our Fair Trade College team.
How did you first learn about Fair Trade? I first learned about Fair Trade about a dozen years ago, when I was walking out of church at holiday time and there was a table set up in the back with chocolate, ornaments and flyers. The goods were from Just Fare Market, our local non-profit Fair Trade shop.  I bought an ornament and chocolate, and grabbed a flyer. I was working for the local Boys and Girls club at the time as a grant writer. Soon after that fundraiser at the church I began helping Just Fare Market with marketing and grants, joined the Board and became the Board President. In 2013 I worked with other Just Fare board members on a campaign to make Fond du Lac a Fair Trade Town!
I started working at Moraine Park Technical College (MPTC) in 2012 and after the successful town campaign it made sense to make MPTC a Fair Trade College. So in 2015, I, along with a team of sociology students and their instructor worked to make Moraine Park the first Fair Trade Technical College in the country! In 2016, MPTC offered its employees the chance to earn diversity certificates. I earned my certificate by creating a Fair Trade College Sustainability team. Now this year, the responsibility to oversee the maintenance of the Fair Trade College designation for Moraine Park is being officially added to my job description.
I've also been active in assisting two other higher education institutions in Fond Du Lac pursue Fair Trade designation: UW- Fond Du Lac, a two-year community college which achieved Fair Trade status in spring 2018, and Marian University, which is currently working toward achieving their designation.    
What are some challenges of running a Fair Trade Campaign at a community college? Most technical college students are part-time, working while going to school and commuting. Many are also raising families. A majority of students are short term, earning certificates or a one year technical diploma. Others are earning a two-year Associate Degree for a specific job or to transfer to a four-year university. For those reasons, staff support is an integral part of maintaining and growing our college campaign.  
What are some favorite events you've attended via your work with Fair Trade Campaigns? 
I've really loved attending Fair Trade Campaigns' National Conferences. Last year, I got to go to DC, this year to Chicago, both times on a travel stipend. I especially love the passion, purpose and networking. It's also great to learn what others are doing across the country.
Another favorite event would be the Wisconsin Campus Compact Conference that just took place last month. MPTC belongs to WI Campus Compact, the state team of a national organization focused on increasing college campus' focus on civic and community engagement.  The goal is to empower students, faculty, and staff to be civic and community leaders. It feels to me like Fair Trade Campaigns is a perfect match to partner with colleges and universities involved in Campus Compact, because Fair Trade is the global component of community and civic engagement.
I've really enjoyed being able to make so many connections through my Fair Trade advocacy and role promoting Fair Trade at Moraine Park Technical College! 
---
Below you can find links to some of the many events that have been hosted or co-hosted by the Fair Trade campaign at Moraine Park Technical College, under Anne's leadership: