Campaign Spotlight: James River High School
As a recent graduate, I can still remember that bitter-sweet feeling of wanting to see my friends, but not wanting to take exams. Since I won't be heading back to school this fall, the feelings I have are all sweet as I think about what our student advocates are planning for the upcoming year.
To share some of my enthusiasm I talked with student organizers from one of our Fair Trade Schools in the Mid Atlantic Region, James River High School. Read on to learn how these motivated students will breathe new life into their campaign while inspiring their peers, teachers and community members.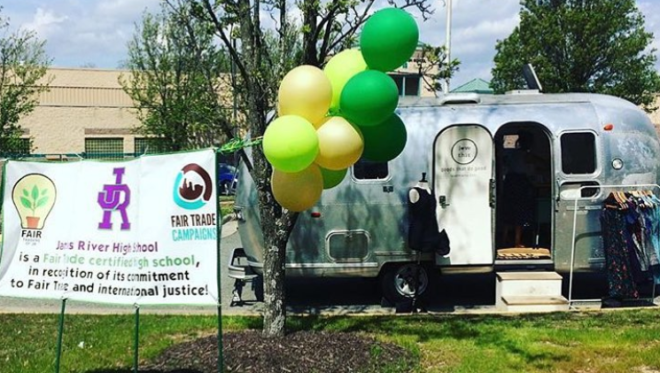 During the 2017-2018 school year, the Fair Traders of James River High School worked together to reach designation and snag the spot of first Fair Trade School in Virginia. This was an incredible feat and the initial student organizers did great work with the campaign. However, the campaign fizzled when the seniors leading the effort graduated and replacement leaders were nowhere to be found.
Luckily, rising seniors Frances Tombes and Julia Allanson decided that the global impact of a Fair Trade campaign was too important to give up and so they chose to work on the campaign as part of their 2019-2020 capstone project. Under the new name 'Sustainably Eco,' Frances and Julia will revitalize the campaign by re-completing the three goals necessary for school designation: building a team, committing to Fair Trade education and events and sourcing Fair Trade products. 
Aside from the goals set out by Fair Trade Campaigns, Frances and Julia's main goal is to educate their classmates, teachers and community members on how to make the world a better place through Fair Trade practices and environmental activism. They are most excited about a Fair Trade Vendor Fair that they are planning in the fall.
"We are most excited to complete the vendor fair because of its enormity and potential impact. This is the biggest event during the capstone process which means it will take the longest to plan and execute but will also be the most rewarding. This is our opportunity to get the community not only inside of JRHS involved, but the surrounding community as well. Through the many vendors we have coming, this is the perfect way to illustrate the importance of sustainability in a fun and creative way."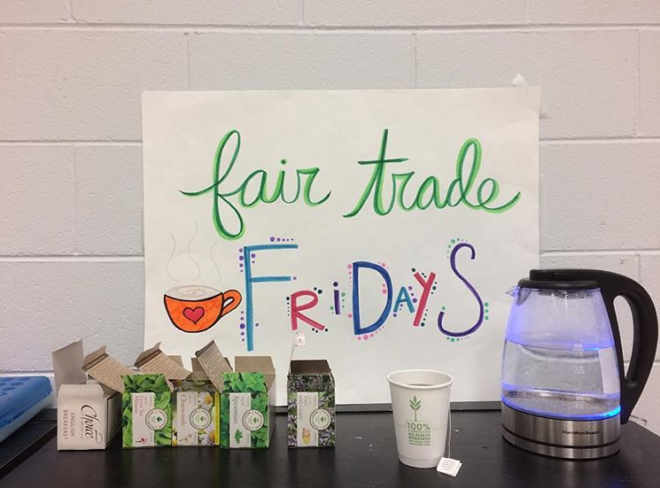 Frances and Julia will also raise awareness within James River High School by hosting speakers and organizing Fair Trade Fridays. The previous lead organizers started the tradition of Fair Trade Fridays where students can purchase Fair Trade tea and coffee every Friday morning. The new team has added their own environmental twist by using compostable cups and providing a discount to those with reusable mugs!
With Fair Trade events lined up, it would be easy to measure the impact they have on students by keeping track of event attendance; however, the Sustainably Eco leaders want to take it one step further. To more accurately gauge campaign success, they will create a school wide survey. The survey, distributed in both the fall and spring semesters, will question students on their Fair Trade knowledge. They expect to see greater understanding of Fair Trade in the spring because of Sustainably Eco's efforts.  
After speaking with Frances and Julia about their plans, there is no doubt in my mind that these seniors will influence their peers, teachers and community members to be more conscious consumers. 
I look forward to seeing what the new school year brings! 
---
Want to learn more about the James River team or start a campaign at your school? Check out the following resources to get started, and don't hesitate to reach out with any questions: admin@fairtradecampaigns.org.