Bring Your Campus to LA for #FTConf2020: A Student Perspective
Last spring, I had the opportunity to attend the Fair Trade Campaigns National Conference alongside other University of Iowa students and Fair Trade advocates. Our student organization, Fair Trade at Iowa, was able to take advantage of the Campus Partner Program, which allowed us to bring 13 students from Iowa City to Chicago!
We all expected to have a good time on our weekend getaway, but it turned out to be so much more than just a weekend off. Our group was profoundly impacted by the experience and had so much more to take back with us to Iowa City than we anticipated.
Here are a few of my key takeaways, and reasons to attend #FTConf2020 with your campus:
The Fair Trade Community Comes Through:
Nothing compares to the energy generated by being in a huge room full of people from across the country that share your passion. Better yet, these people understand the work you are doing every day and the ups and downs of what it means to be an advocate. The conference offered our group a deep sense of connection to the overall Fair Trade movement and reminded us that we are part of a broad network of individuals with a vision for a more just economy.
We act and work locally, but each action is part of a global effort. No small act is actually small.
Not to mention, the conference was just packed with some incredibly cool people.
All The Feels:
The conference granted our group access to inspiring talks and ideas from the leaders and founders of the Fair Trade movement as well as those taking charge of Fair Trade, USA and other entities. However, for many of us the real impact was felt when we heard from the producers that spoke about their experiences and the impact Fair Trade has had for them and their communities (read more about their perspectives here). The voice of producers and farmers is too often absent in our discourse on Fair Trade. Hearing from these folks really helps bring home why we do this work and how important it is that our society do what is necessary to uplift communities and help end suffering and severe poverty.
Opportunities, Inspiration, and Understanding:
The lasting impact the National Conference has had on our student group has not been small. After leaving the conference, our group was deeply inspired and had a much better foundation for continuing our work back home in Iowa City and at the University of Iowa. Our team grew closer as a unit and were equipped with so many new ideas and perspectives.
We better understood the origins of the movement, ways we could be more impactful advocates, and the power we have to make change with our and our institution's purchasing decisions. we are on track to achieve designation as a Fair Trade University this semester, and we have the conference to thank for our momentum.
So, are you interested in bringing your campus Fair Trade group to LA a in 2020? Here are some tips!
Check out the Campus Partner Program. Many colleges and universities will be eager to support student attendance, and Fair Trade Campaigns will recognize them for their commitment!
Reach out to your Student Government, Office of Sustainability, Center for Human Rights, or other areas on campus that may have grants or funding available for student organizations. Utilize Fair Trade Campaigns' sample ask letter for your funding requests!
Reach out to the team and staff at Fair Trade Campaigns (or me!) if you are running into any trouble becoming a Campus Partner!
---
Find out how to enroll YOUR Campus as a Campus Partner.
Subscribe to our newsletter to get the latest news and updates about #FTConf2020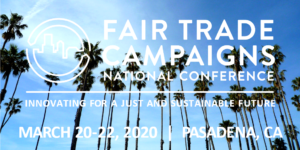 About the Author 
Zachary Rochester is an Iowa City, Iowa native and an incoming Regional Fellow for the Great Lakes Region. They began their work with Fair Trade with a volunteer position at the local Ten Thousand Villages. From there, they began getting involved with the ongoing Fair Trade Campaign in Iowa City and launched a campaign at UIOWA as well. Zachary is a yoga teacher, a student at the University of Iowa and an engaged community activist. Zach can be reached at zachary@fairtradecampaigns.org.