Share the Love: Valentine's Day 2020
On February 14, many of us take time to show extra love to the special people in our lives. This Valentine's Day, we're partnering with Alter Eco and inviting you to share the love with the farmers behind your Fair Trade chocolate.
Why Chocolate?
The global cocoa market's value is estimated at almost $10 billion but, unfortunately, under conventional, non-Fair Trade production, many cocoa farmers still live in poverty and child labor is often widespread. With Fair Trade cocoa, farmers are paid a fair wage for their work, additional funds are routed back to farmers to invest in their communities and child labor is prohibited.
How Can You Take Action?
Give Fair Trade flowers, chocolate and greeting cards, host an event to raise awareness and send valentines directly to Fair Trade cocoa farmers in Ecuador. We have three easy ways for you to show your support and share the love this Valentine's Day.
1. Send Valentines to Cocoa Farmers in Ecuador
Wouldn't it be great if you could send a note of personal thanks and gratitude directly to Fair Trade farmers? Well now you can! We are partnering with Alter Eco, a Fair Trade company, to send valentines to cocoa farmers in Ecuador who are members of a Fair Trade cooperative, UNOCACE.
How does it work? Send an individual valentine, or collect messages from family, friends, colleagues or classmates. Just follow these simple steps:
Print our valentine template: (download here) or make your own custom cards.
Sign-up to host an event: http://bit.ly/VDay2020Interest
Table or host an event: Plan an event, work with a group in your community already hosting one, or set up a table in a high traffic area. Our 101 guides on Fair Trade cocoa, flowers and anti-trafficking advocacy and child labor make great tabling materials! Find all of our 101s here: http://bit.ly/FairTrade101s.
Collect valentines: Ask folks to stop by and write down a message of support or thanks.
Send valentines back to us by February 28: We will then forward them on to UNOCACE.
Mail your valentines to:
Kylie Nealis | Fair Trade Campaigns | 1901 Harrison Suite 1700 | Oakland, CA 94612
We're collecting valentines in English and Spanish.
This is a great activity for a Spanish class at your school!
---
2. Give Fair Trade Chocolate and Fundraise with Fair Trade
We've partnered with Alter Eco to help you choose and share Fair Trade chocolate this Valentine's Day. Use the discount below to purchase chocolate for a fundraiser at your school, on your college campus or in your community!
Use the code FTCAMPAIGNS to get 20% off your order of Fair Trade Chocolate at www.AlterEcoFoods.com (offer valid through 2/29/20)
---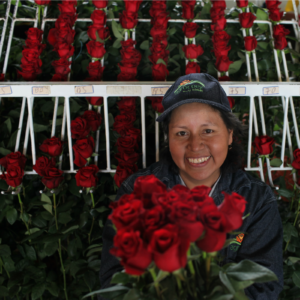 3. Send a Virtual Valentine
Show your support for farmers and artisans by sharing the love on social.
Post event photos, write a digital thank you or share how you use Fair Trade to share the love on Valentine's Day.
Don't forget to tag us @FTCampaigns so we can see what you're sharing.
FACEBOOK  |  TWITTER  |  INSTAGRAM
4. Educate Your Friends, Family & Peers
Use these resources to educate your campus, school, community, friends and family about the benefits of choosing Fair Trade this Valentine's Day:
---
Get to Know UNOCACE:
UNOCACE is a cooperative model made up of small scale farmers that enables producers to maintain ecological and quality benefits associated with organic farming through stable pricing and access to a global market.
How many members are part of the coop? 1,200 cocoa farmers
Average Size of land per farmer? 10 acres
Where is the co-op located in Ecuador? In the hillside along Montalvo in the coastal region.
When were they formed/founded? 1999
Notable Programs at the Co Op? UNOCACE has established a program of dynamic agroforestry in 2016 called FINCA (translates as 'small farm') producing Arriba cacao in biologically diverse conditions. There are currently 400 farmers involved in this program with a vision to transition more in future. This type of farming gives back to the soil, more than it takes out and has the following benefits. Alter Eco is striving to support more farmers within this co-op and others to transition to this sustainable farming method.
Benefits of the Fair Trade Co Op model:

Environmental: Soil health, carbon sequestration, climate mitigation, water conservation
Economic: Health & longevity of cocoa trees, increase cocoa yield, additional revenues of diverse crops planted among cocoa
Social: Better working conditions for farmers while harvesting and caring for cocoa.
Get to Know Alter Eco:
Alter Eco® is a chocolate-centric, sustainability-directed food company that takes indulgence to new heights. Recognized as a top certified Benefit Corporation, a registered Public Benefit Corporation and proudly listed as one of the 'Best & Brightest' places to work in 2019, Alter Eco is dedicated to pioneering a better way of doing business as a force for change. Alter Eco practices a full-circle approach to sustainability throughout its operations and supply chain through four pillars: sourcing using Fair Trade principles, producing only organic and non-GMO foods, creating minimal waste by working towards 100 percent compostable packaging, and in-setting carbon emissions by means of large-scale reforestation/conservation programs in the cooperatives that produce its crops. These principals are entwined with Alter Eco's commitment to the highest quality ingredients and taste in all of its products, available in North America, Australia and Canada. All Alter Eco products are USDA Certified Organic, Fair Trade Certified, Carbon Neutral Certified, Certified Gluten Free (excluding Dark Salt & Malt) and Non-GMO. Learn more at: www.alterecofooods.com
---
Join us to show your support of Fair Trade in person at our 2020 National Conference!
conference.fairtradecampaigns.org