Highlights from the 2020 Virtual National Conference
From March 18th-21st, we brought over 400 Fair Trade partners, advocates and supporters together online for four days of learning, inspiration and exploring the intersectionality of the Fair Trade movement. Building on the energy of the 2018 conference in Washington, DC and the  2019 National Conference in Chicago, IL, it was an inspiring reminder of the strength and diversity of the Fair Trade movement, especially in this time of adversity and disruption that we are all facing due to the outbreak of COVID-19.
Here at Fair Trade Campaigns, we're proud to have been able to pivot from the in-person conference we had planned in Pasadena, CA, to an entirely virtual, online conference, accessible to more people. We're grateful to everyone who  attended and supported for your flexibility and unwavering commitment and passion for Fair Trade, social and economic justice, sustainability and environmental justice. Read on for highlights from across the four day program!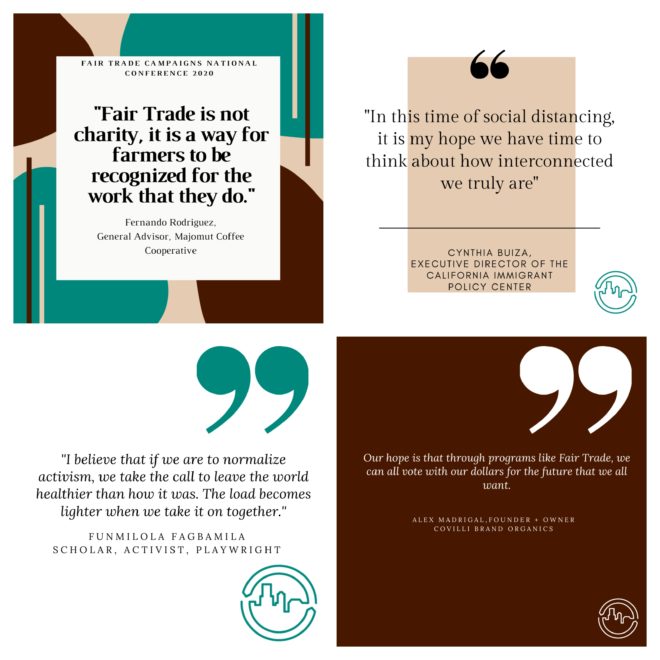 Throughout the event, we explored topics aligned with the conference's overall theme: Innovating Toward a Just and Sustainable Future. Session styles included panels, workshops and case studies. From student advocates to sustainability leaders in the fashion and apparel industry, we saw how partnerships are key to strengthening and scaling our movement. We engaged in honest, thought-provoking conversations about diversity, equity, and inclusive advocacy. We heard tips and different approaches from campus and community organizers in our Fair Trade Advocacy case studies. We heard firsthand the impact that Fair Trade is having on producers at origin including coffee farmers, factory workers and their communities.
The conference kicked off on Wednesday March 18th with inspiring messages of intersectionality,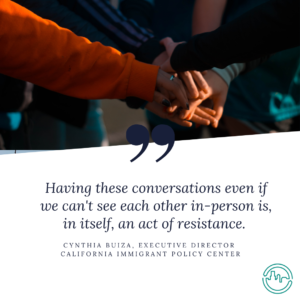 linking seemingly different issues like the struggle of communities of refugees looking for dignified work, to city council members in Iowa City considering how Fair Trade fits with local climate action plans, to youth activists advancing climate action. We also learned that whether it's a company with hundreds of thousands of farmers and growers, or a few hundred, trust and inter-dependency drive impact, and that having these conversations, even if we can't see each other in-person is in itself an act of resistance. 
During the breakout sessions on day two, speakers shared practical ways to expand and grow our reach – how to tell authentic stories of impact on communities that we don't live in, how telling those stories can be an integral way to grow a business, how to raise the funds we need to grow our movement, and more. Themes like how diversity has to be at every layer of your business and advocacy, not just in the producers you work with and that the principles that fasten the systems and tools we use to build our activism online are as important as the tools themselves permeated the sessions. We heard from experts that influence doesn't come from authority, it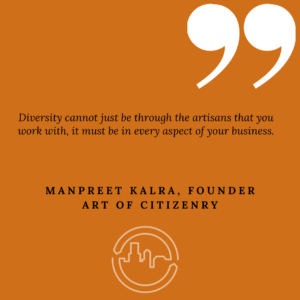 comes from trust. We learned about all of the ways that community building and connections are key to ensuring a just and sustainable future and explored how Fair Trade is uniquely positioned to do so. 
Another key message was the ripple efunmffect of Fair Trade's impact. Vik from Terra Thread gave us an incredible example of this in the apparel sector – their company supports farmers by sourcing Fair Trade, organic cotton, factory workers through Fair Trade premiums, and doing even more by partnering with Feeding America to provide meals to people here in the U.S. who need them. 
On the 3rd day, we dove into sustainability and social responsibility Los Angeles, one of the biggest metropolitan areas in the world, and learned about the importance of self-care in organizing. First, community leaders shared with us how LA is working across sectors to weave sustainability and social responsibility throughout the community. We also learned how LA is poised to be the largest Fair Trade City in North America, thanks to the incredible work of Fair Trade LA. Next, our keynote speaker Funmilola Fagbamalia, gave us all a critical reminder that we must invest in ourselves and our own personal sustainability if we are going to be effective in driving social, environmental and economic justice. 
Finally, on the last day, we heard from a lineup of amazing change makers on how innovation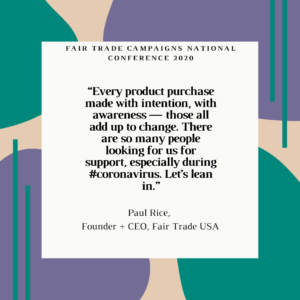 even within one sector, apparel and home goods, touches more lives than we will ever know. Starting with a fireside chat with CEO of Fair Trade USA, Paul Rice, and VP of Social and Environmental Responsibility at Patagonia Inc., Cara Chacon, we heard about the incredible impact one company can have on factory workers and their families. The diverse perspectives continued throughout the final day including insights from influencers within the Sustainable Fashion movement and wrapping up with a panel of leaders up and down the supply chain sharing stories of impact and challenges. After hearing from all of them it was clear that, collectively, we have the power to make a difference in the lives of factory workers, farmers and their communities around the world.
---
 I am so amazed at Fair Trade Campaigns for pulling the conference off. You truly did make the best out of an objectively terrible situation and the entire movement is better because of it. I think this crisis especially is igniting people's empathy and solidarity all around the world, and I am more grateful and proud than ever to be a part of a community that has always prioritized the people's and the planet's well-being.
– Isabel, Loyola University, Chicago, IL
---
This one-of-a-kind conference provides the opportunity to learn from top-notch experts from around the world, who together illustrate the importance of collective and individual impact Fair Trade makes in global societies and business. The result is tangible and inspiring!
– Brittany, Los Angeles, CA
---
Looking Ahead
Stay tuned for more!
Over the coming weeks, we'll be sharing content from all of the sessions with everyone who registered for the conference and later on with our entire network.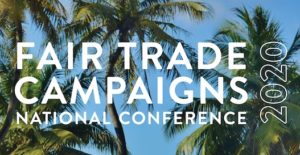 ---