August Campaign Achievements: Making Progress
We would like to take a moment to recognize all of our campaigns hard at work making this summer a huge success!
Badges and Declarations:
Altadena, CA – Reach out to Retailers
Lawrence, KS – Reach out to Retailers; Get Some Love from the Media
Metuchin, NJ – Engage Your Local Government
Penn State University, PA – Build Your Team
Philadelphia, PA – Reach out to Retailers
Raleigh, NC – Build Your Team
San Ramon, CA – Engage Your Town
State College, PA – Build Your Team
Wright State University, OH – Source Fair Trade at Events & Meetings
Campaigns in the News:
Students Advocate for Fair Trade at Wright State
"Our school gets national attention, and we have an opportunity to be a part of an international conversation about human rights."

Now it's YOUR time to shine: upcoming programs

Only five days left to participate in the Back to School Photo Contest – participating campaigns will enter to win a Mega-Chocolate-Gift-Pack!
When you find Fair Trade chocolate on campus, take a photo holding the green check mark sign (example below), post, and celebrate! When you find chocolate that isn't Fair Trade, hold up the sign that has a big red "X", take a photo and then post to social media.
For more details (Click Here) for our Cocoa Toolkit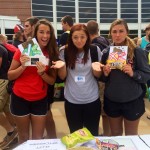 Fair Trade Month is a fantastic way for the whole community to come together in support of Fair Trade.  Each Fair Trade Campaign chooses a day, week or the entire month of October to share the Fair Trade message with local organizations, clubs, classrooms and community leaders.
Our "Share the Fair" program is all about educating your community through one-on-one meetings with community leaders, presentations to organizations, workplaces, or classes, Fair Trade focused assemblies, and more.
For more details Click Here!
*Top photo/artwork by: Noel Shiveley