Fair Trade Campaigns' Newest Regional Network: The Great Lakes
Fair Trade Campaigns has experienced rapid growth over the past few years. We now have over 250 Fair Trade Campaigns in communities, K-12 schools, congregations and on college campuses across the country!
To meet this growth, we've developed regional networks across the country comprised of regional fellows and volunteer leadership teams to better connect our advocates on a regional level. Today, we're pleased to announce the launch of our fourth regional network: the Great Lakes!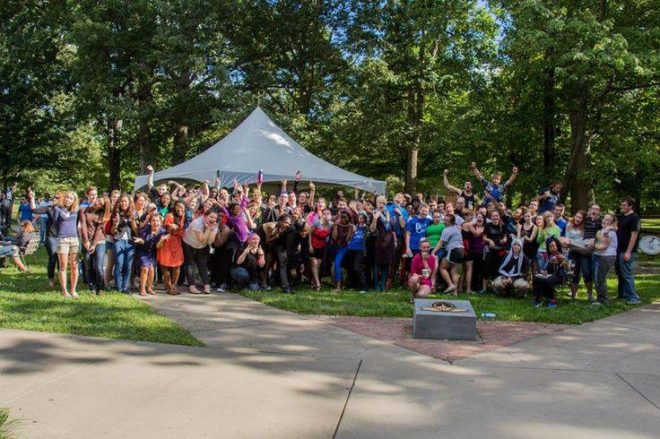 Since 2014, Fair Trade Campaigns has developed and implemented regional networks across the U.S. with the goal of creating a regional community of Fair Trade advocates to help campaigns feel connected to each other and the larger Fair Trade movement. The first regional network was the Mid Atlantic (developed in 2014), followed by the Northeast and Southwest (developed in 2015). This fall, we are launching our fourth regional network, the Great Lakes (Illinois, Indiana, Iowa, Minnesota and Wisconsin).
What is the purpose of the regional networks? 
With 250+ campaigns across the U.S., Fair Trade Campaigns is growing rapidly and making a huge difference in the lives of artisans, farmers, and workers across the globe. As we plan for further growth and new initiatives, we need to ensure that all of our campaigns have the benefit of strong support, opportunities for collaboration, and the ability to understand the impact of their work. That's where Fair Trade Campaigns' Regional Networks come in. The overall purpose of our regional networks are to connect Fair Trade advocates and support campaigns at the regional level.
How are regional networks structured?
Each regional network is led by two regional Fair Trade Campaigns fellows and supported by a regional leadership team consisting of 4-6 volunteers. While our regional Fellows are part-time, paid staff, Leadership Team members are volunteers, contributing around two hours per month for one year (September – September, with the option to extend for additional terms) to help us strengthen the Fair Trade movement. We couldn't be more grateful for their time and energy!
What exactly do the Fellows and regional Leadership Teams do? 
There are three main strategies which Fair Trade Campaigns utilizes to build a strong regional network of campaigns and organizers that feel connected to each other and the Fair Trade movement:
Quarterly Network Calls: Regional Fellows and Leadership Teams organize quarterly Network Calls to connect all campaigns, provide skills training, discuss ongoing programs, and support campaigns through the goals to achieve Fair Trade status.
Quarterly Bulletins: Regional Fellows and Leadership Teams coordinate and support publication of quarterly regional bulletins containing news, announcements about regional campaigns and invitations to Fair Trade events within the region.
Campaign Support: Regional Fellows and Leadership Teams support regional campaigns and connect them with the tools and resources they need to succeed in becoming a Fair Trade Town, School, Congregation or College/University and to maintain momentum and expand their community or institution's commitment to Fair Trade post-designation.
Meet the Great Lakes Regional Fellows
Aleah Erenberger is a graduate of Loras College in Dubuque, IA, a Fair Trade College, and is currently living in Dubuque. She graduated with a BS in Biology. While at Loras, she spent two years as the Fair Trade Student Worker in the Peace and Justice Department on campus. She graduated hoping to continue her work in the non-profit realm and work for global solidarity and social justice. Her heart still holds the sciences fondly and has found her passion to also be in public health. She currently works at Hillcrest Family Services as the Tobacco Use Prevention Lead and see this job as an excellent opportunity to get experience in public health before continuing on to graduate school. Born and raised in Colorado, she hopes to return to her home state within the next two years. Her favorite activities include hiking with her two dogs, biking, kayaking and simply spending time outdoors.
Sarah King has spent the last five years dedicated to the Fair Trade movement. After exploring Fair Trade in Indianapolis, she decided to make her college choice based on Fair Trade universities. Social and economic justice for all became her personal slogan as she worked with Chicago Fair Trade, and Mata Traders. Her work at DePaul University as the President of their Fair Trade committee has brought new Fair Trade prospects onto the campus through Fair Trade products and policy. Fair Trade integrated into her family, spread to her friends, and now takes the forefront of her personal and professional life. Sarah endeavors to include the promotion of equal pay and safe working conditions for all producers by partnering with community leaders, businesses, and organizations. Her passion for the mission has led to increasing knowledge in her community and awareness on campus.
Meet the Great Lakes Regional Leadership Team
Great Lakes Regional Leadership Team members bios and photos will be posted on our National Team Page by September 1st. Please check back then to get to know the team!
Get to Know Some Great Lakes Fair Trade Campaigns
---
Live in the Great Lakes Region (Illinois, Indiana, Iowa, Minnesota and Wisconsin)? Stay connected by signing up for the Great Lakes Regional Bulletin!