Campaign Spotlight: Burlington, VT
I originally got involved with Burlington's Fair Trade Town campaign as a student at Champlain College, where I worked on the Fair Trade College campaign through the college's Center for Service & Sustainability. As a member of the Eco-Reps program at Champlain, I learned about the dynamic approach of Fair Trade and grew inspired to table on campus to get greater engagement from the Champlain community.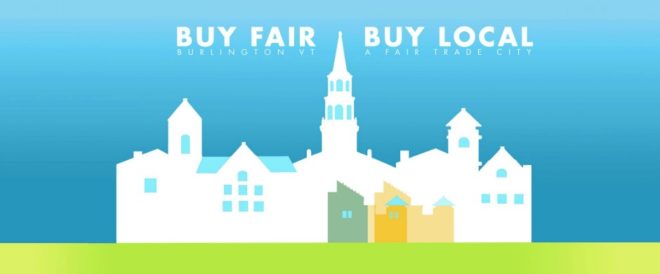 Building A Fair Trade Community
Burlington, VT has been organizing community building events to emphasize the importance of Fair Trade since the winter of 2009, when the City Council passed a resolution making Burlington a Fair Trade Town. Passionate college students, activists and local businesses have been ensuring that educational events are always in the works. The collaboration that happens here is inclusive and makes a point to also highlight other related issues.
The Peace & Justice Center, a local nonprofit organization, runs the Fair Trade Town campaign and does an amazing job of offering frequent and free lectures about Fair Trade. Presentations examine issues including child slavery and human trafficking in the cocoa industry, and are designed to educate, brainstorm solutions and create tangible action steps that fit within the comfort zone of each participant. Bringing these large scale problems to the forefront of the Burlington community empowers consumers to understand and take ownership of the ways that their spending impacts others. 
"We as a Center support the concept provided by the Burlington Fair Trade Network describing fair trade as an international movement to make trade fair for small producers in developing countries, supporting sustainable development, changes in corporate behavior and changes in international trade policies."
– Peace & Justice Center
Three campuses in and around Burlington also have strong College & University campaigns. Champlain College and St. Michael's College are declared Fair Trade Colleges, and the University of Vermont is just one step away from designation. The Peace & Justice Center has supported all of these campaigns in different capacities, like giving educational presentations on campus.
Collaboration can build a Fair Trade community on campus, too. When I was a student organizer with Champlain's campaign, the Eco-rep program knew it was essential to partner with other groups, like our PRIDE group and Office of Diversity & Inclusion, to petition for a gender neutral apparel option in our campus store. In under one semester, we were able to meet our goal because we expanded the conversation from eco-friendly to anti human trafficking and integrated clothing for folks who are non-gender conforming. Influencing a higher education institution was only possible with the help of other concerned students and faculty. 
Finding Unexpected Allies
When seeking Fair Trade allies, it never hurts to think outside the box. In addition to local nonprofits and colleges, Burlington has found an ally in the music industry.
The Brooklyn-based band Moon Hooch, who sells out concerts nearly every time they come to town, publicly speaks out against ecological destruction and inequality. Seeing this issue-based alignment with Fair Trade, I reached out asking to table for Fair Trade and the Vermont Ibutwa Initiative, a local nonprofit focused on addressing gender-based violence. We also partnered with a another local organization, Steps To End Domestic Violence, to provide local resources for support.
Highlighting how Fair Trade, Ibutwa and Steps all empower women in different ways was refreshing and made those with a listening ear feel hopeful. Steps also provided their button maker which was an awesome addition to the table, acting as a creative outlet for many interested people who were checking out these multifaceted causes. Thinking creatively and not being afraid to reach out led to a beneficial relationship with an amazing band who consistently draws in big crowds. Now, whenever Moon Hooch comes to town, Burlington's Fair Trade Town campaign has a unique platform to seek out new allies.
Engaging Retail Partners
To earn designation as a Fair Trade Town, Burlington had to enroll eight local retailers that sell Fair Trade products. Today, Burlington continues to engage retail partners to make Fair Trade visible and available in the community.
Each May, the Peace & Justice Center holds Burlington's annual World Fair Trade Day event at the Burlington Farmer's Market. Demonstrating the alignment of Buy Local and Fair Trade, a regular Farmer's Market vendor, Fairy Tale Farm, uses Fair Trade cocoa from Lake Champlain Chocolates (a Burlington-based company) to dust their Barbegazi cheese rind.
A wide variety of Fair Trade products are also sold at City Market, Burlington's coop. Pairing purchase and education, the store recently set up a display highlighting their selection of Fair Trade wines.
Take Action
A decade after designation, Fair Trade is still alive and well in Burlington. Use these lessons from Burlington to help embed Fair Trade in your community.
Engage New Allies

Reach out to potential allies to build strategic partnerships
Co-organize educational events with other groups to help get the word out and reach new audiences

Advocate Inclusively

Consider marginalized groups in your community that may want to advocate together
Draw connections between local and global issues/solutions

Partner with Retailers

Talk to local retailers about integrating Fair Trade goods in their shops
Reach out to businesses that have social impact and or sustainability missions
There are so many ways to get involved – from starting a conversation to starting a Town campaign. Let your passions guide the conversations you initiate. People will feel your enthusiasm! If you can take advantage of an opportunity to show community members how incorporating Fair Trade into their current approach makes a positive impact, do it! You never know what kind of awesome relationships can be cultivated by sharing your beliefs in a just future.
---
Stay in the loop by following Burlington's Fair Trade Town campaign on Facebook and our website, and subscribe to the Northeast Regional Bulletin for more local news.
---
Lily Mason is a Fair Trade Fellow with Fair Trade Campaigns. She is an alum of Champlain College, where she was active with the Fair Trade College campaign and many other initiatives. She now lives and works in Burlington, where she continues her Fair Trade advocacy in support of the Fair Trade Town campaign.