10 Techniques to Transform Your Marketing Strategy
Whether you are a brand new campaign or have been around the block a few times, all can agree that marketing is one of the most critical aspects of grassroots organizing. Every campaign has access to ample marketing tools that, when used properly, can become one of your best assets to increasing visibility and creating greater impact in your community.   
1. Posters & Flyers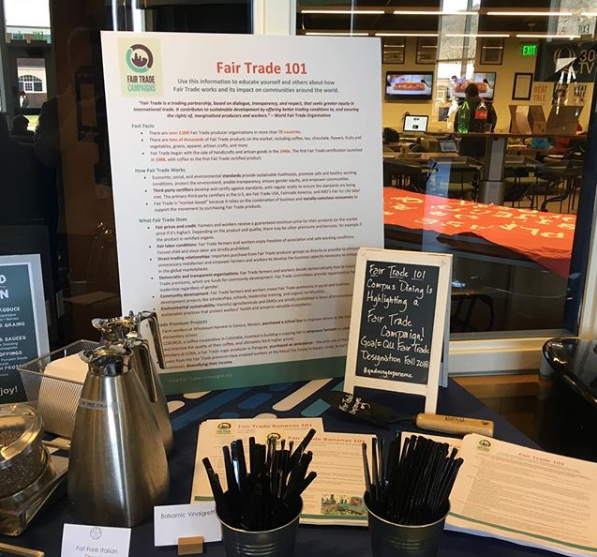 Making a poster for your campaign is a breeze, with free tools like Canva or even Microsoft Word or PowerPoint. Or take a cue from Quinnipiac University and print a large scale copy of our Fair Trade 101 guides.
When making your flyer ensure that the colors pop, the text is readable from a distance, and all the necessary information easy to find on the poster. Use Fair Trade Campaigns' Branding and Style Guide when making your flyer to help spread the Fair Trade Campaigns brand.
BONUS RESOURCE: Customize these flyer templates for your campaign!
2. Email
Email is a great form of communication, as long as it's used properly. Here are six tips for sending effective emails:  
Make sure your call to action, or what you want the audience to get out of the email, is at the very top. If people have to scroll down, they may miss your message. 

 

Use text and image formatting to draw attention to key points in your emails.  

 

Hyperlink all relevant materials to help readers dig deeper on topics that interest them. and use graphics and visual aids when appropriate. 

 

Make sure you include any intended attachments.
Don't forget to proofread your email.
Most importantly, follow up! If you want to see results you should send at least two or three emails prior to each event or meeting.  One as an announcement so people can mark their calendars, one to build excitement and include more details, and one to remind the person of the event.  

 
BONUS TIP: Collect contact information at all events and meeting by always having an email signup sheet available, either digitally or on paper.   
3. Social Media
When using social media, the key to growing your following is to post engaging content regularly. Think of yourself as a media company and put yourself in the shoes of your target audience. Ask yourself, "What content can I provide to my audience that will be valuable to them? What will make my audience want to give up their free time to engage with my channels?" 
First, determine your capacity for maintaining a social media presence. Will you have one designated person handling social media or will a committee manage the accounts? Do you have enough original content? To increase your engagement, post pictures and videos to get the most attention. With your text posts, emojis can often increase engagement as well. Lastly, post as much information about your events, meetings and other pertinent details on your pages so everyone can access the information.   
When your campaign is first getting started with social media, be sure to start slow with and select one social media channel that meets your needs. Once the campaign is satisfied with reach and engagement on that account, your committee may want to consider creating another social media channel to engage a broader audience.   
Want to take your social media campaign to the next level? With cell phones today, it is easier than ever to make and edit videos.  Challenge yourself and make a promotional video for your campaign or events to show why people should get involved.
4. Tabling & Canvassing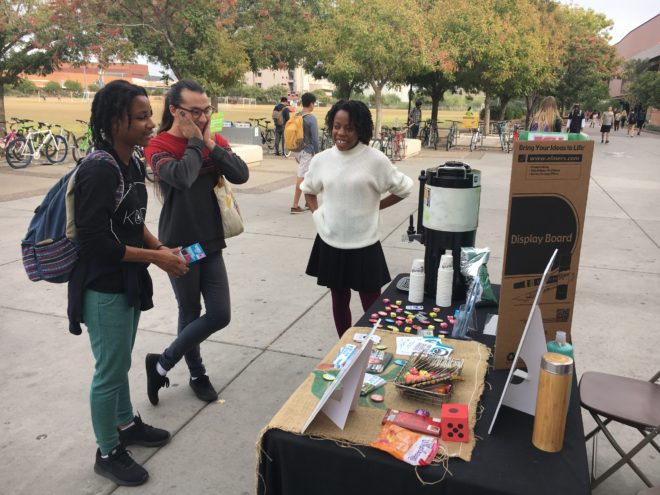 Showing up and being seen is the best way to get your name out there. Just like social media and email, tabling is not a one-time event, but rather a series of events built into a recruitment and awareness strategy.
To be successful in engaging community members, all you need is excited and informed volunteers. Volunteers who table or canvass need to be energetic to draw people in. Choose a high traffic area on your campus or in your community, and see how many people you can talk to about Fair Trade!
Sometimes having a table is not practical and it would be better to have volunteers with clipboards and materials. Canvassing the area with volunteers is a great mobile way for your campaign to get noticed. Be sure to have the volunteers wearing name tags and other identifying information that allows people to associate the volunteers with your campaign.   
5. Collaborate with Other Organizations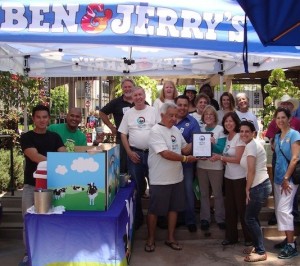 The easiest way to connect with an audience that you normally do not reach is to collaborate with another organization or event. For example, if a college campus has a campus activities board that hosts weekly events that are heavily attended by the student body, then a Fair Trade campaign should reach out to the weekly activity organizers to see if the campaign can collaborate with the organization.   
Collaboration starts with identifying a list of individuals and organizations who have similar missions or goals. Next, start by attending one of their meetings or events and talking to their members to build trust and mutual understanding. Then, identify the intersection of interests and work together to plan events that benefits everyone.
6. Passive Advertising
Constant reminders of your organization that people see regularly are great ways to build awareness. Posting signs about Fair Trade and your campaign is a great example of passive advertising. Whether it's a sticker on the front door of a store or a sign next to the campus coffee station, signage is critical when trying to expand your message. If you have a personal bulletin board that your campaign is responsible for maintaining, make sure it is interesting, full of color and updated. If you are using a community bulletin board in public areas like on campuses, at cafes, or in libraries, be sure to continuously swap out materials to keep the information fresh.
Another example of effective passive advertising is to print shirts for your campaign or coordinate with your Fair Trade committee to wear club apparel on the same day (i.e. Fair Trade Friday, wear your Fair Trade Club T-shirt).  
7. Classroom Presentations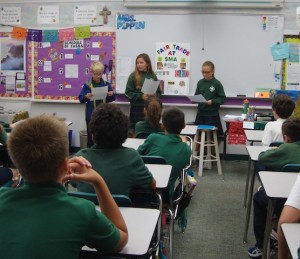 Classroom presentations offer opportunities to speak about the intersections between Fair Trade and a wide variety of other topics, including supply chains, human trafficking, environmental sustainability, and gender equity. Reach out to teachers at your college or school, or talk to nonprofits or libraries in your community to see if you could give a presentation. The presentation can be as short as a plug for an event or a meeting at the end of class or as in depth as a chocolate tasting and Fair Trade 101 presentation.   
Classroom presentations can be leveraged by any campaign type, especially congregations that offer youth education programs or other types of schooling.
PRO TIP: Before you schedule your first presentation be sure to practice presenting at least twice. The best way to prepare volunteers to speak about Fair Trade is to record them practicing and to watch it with them to discuss feedback and ways to improve.  
8. Get Some Love From the Media
Fair Trade Boston markets their events with ease by getting free air time and print space from local media organizations. Prior to Fair Trade Month in October, the campaign leveraged their local connections to arrange an interview with a local television station as a way to promote the community events hosted by the campaign. Chicago Fair Trade teams up with their local radio station to record a live broadcast at their annual World Fair Trade Day celebration.
Some organizations will put your events on their community calendar while others while include you in their programming. Reach out to local media organizations to get your campaign's chance in the spotlight!
9. Chalking 
Every campus and community has different policies on chalking, but if you are allowed to chalk walkways, windows, doors, brick walls, chalkboards, and white boards with information about your organization and your events. On college and school campuses, students often chalk the grounds of heavily trafficked areas to raise awareness on issues.   
10. Get Creative!
As the saying goes, any publicity is good publicity. Campaigns that engage in the wacky, fun, and creative ways that grab people's attention are often the most successful at engaging their community!
Siena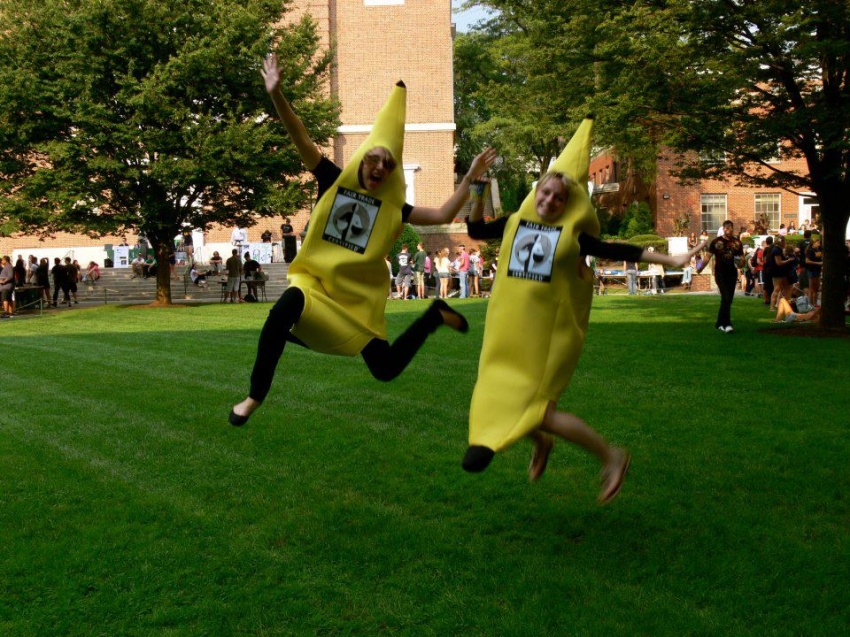 College decided to take a new approach to bringing awareness to Fair Trade. The lead organizers partnered with the Office of Public Safety to plan a fake arrest of a student in a banana costume. After the lunch rush entered the dining hall, the organizers staged the arrest and used a megaphone to make sure their message of justice was loud and clear.   
The town of Media, PA has been going bananas for Fair Trade since they became the first Fair Trade Town in the United States. For the past several years, Media's Fair Trade committee has enlisted volunteers to run in the town's annual 5K while wearing banana suits to get press coverage and community attention.
Ideas like these are some of the most effective ways to become memorable to the community and provide plenty of room for your campaign to go viral! For more ideas on events and marketing, check out our Event Ideas and Promotion guide.
---
How do you market your Fair Trade campaign and raise awareness in your community? Let us know in the comments!