Year in Review: Top 10 Achievements of 2018
2018 was an exciting year for Fair Trade Campaigns!
Let's take a look back at the Top 10 Achievements of the year.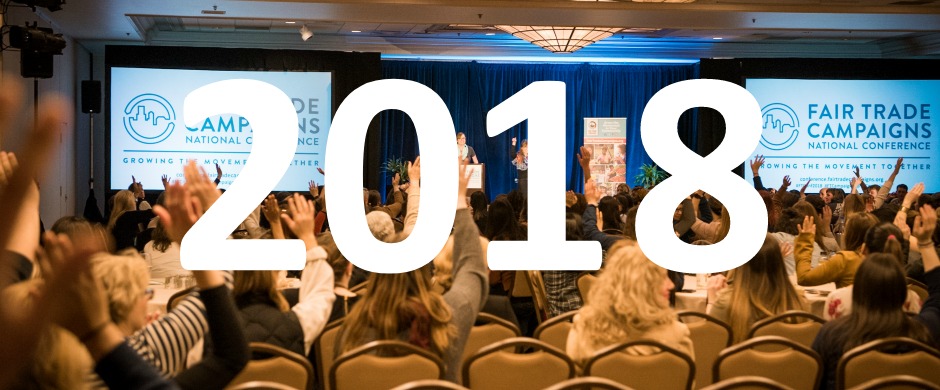 1) We welcomed over 330 advocates, supporters and partners to the 2018 National Conference in Washington, DC.
In March 2018, we spent three inspiring days learning from leaders from across the Fair Trade movement and making new connections to support ongoing advocacy. Catch up on highlights from the event and mark your calendar for the 2019 National Conference, March 1-3 in Chicago.
2) Arizona State University took the title of largest Fair Trade University in the U.S.
With over 70,000 students, Arizona State University is the largest university in the U.S. In May 2018, thanks to the combined efforts of University Sustainability Practices, Aramark, Sun Devil Dining, Follett and student leaders, ASU declared as the 50th and largest Fair Trade University in the country. Read more.
3) Chartwells Higher Education announced a commitment to Fair Trade sourcing.
Chartwells Higher Education announced their commitment to sourcing Fair Trade products at all 280 campuses across the country. The food service provider also plans to work with campuses to pursue Fair Trade status, supporting exponential growth of our Fair Trade College & University network. Read more.

4) We celebrated Fair Trade Month with a new webinar series.
In October, we organized a series of three Fair Trade Month webinars to connect campaign organizers, share tips and tools and celebrate the amazing work taking place in the Fair Trade movement. These conversations featured campus representatives from ASU and UCLA, staff from the Fair Trade Advocacy Office and Fair Trade USA, and Fair Trade Federation members Fair Anita and Noonday Collection. Watch the webinar recordings here.
5) Fair Trade Universities expanded in the University of California system.
There are now active Fair Trade University campaigns at six out of ten University of California (UC) campuses. In 2018, we celebrated the designation of UC Berkeley and UC Irvine, joining previously designated campuses UC San Diego and UCLA and campaigns underway at UC Davis and UC Santa Cruz.
We're also working with California State University (CSU) to bring Fair Trade to their network of 23 campuses. Congratulations to Cal Poly San Luis Obispo for becoming the first CSU campus to earn Fair Trade designation!
6) Two campaigns celebrated First in State declarations, in Virginia and Connecticut.
First in state declarations become less common as our network continues to grow, and we're thrilled to have celebrated this achievement twice in 2018. Join us in welcoming James River High School, the first Fair Trade School in Virginia, and Quinnipiac University, the first Fair Trade University in Connecticut.

7) Fair Trade campaigners sent almost 2,000 valentines to farmers and artisans. 
Thanks to our amazing campaigners, and our program partners at Divine Chocolate, Good Paper and Sense Ecuador, we were able to send thousands of valentines to farmers and artisans in Ghana, the Philippines and Ecuador. Help us surpass that number next year – subscribe to our newsletter to be notified when we launch our 2019 Valentine's Day program in January.
8) A record number of schools participated in Fair Trade Finals.
165 colleges, universities and high schools participated in our Fair Trade Finals program at the end of the spring and fall semesters. Thanks to generous donations from our brand sponsors – Aruna Project, ecoGrounds, Friendship Organics, Metropolis Coffee Company, Mighty Leaf, Pocket Disc, Simple Truth, Sol Simple and Tony's Chocolonely – we reached tens of thousands of students, staff and faculty with the message of Fair Trade.
9) The goals for Fair Trade designation underwent a strategic review and refresh.
In line with Fair Trade Campaigns' strategic plan, we refreshed the Fair Trade designation criteria to strengthen the program and better align efforts across all four campaign types. Read more.
10) We presented at the International Fair Trade Towns Conference.
Campus & Community Engagement Manager Kylie Nealis represented Fair Trade Campaigns at the 12th annual International Fair Trade Towns Conference in Madrid. She shared strategies and success stories from Fair Trade campaigns in the U.S. and made connections to continue strengthening the global network of Fair Trade advocates.
---
Looking ahead to 2019, we can't wait to celebrate these achievements and more at the 2019 National Conference. We hope you'll join us!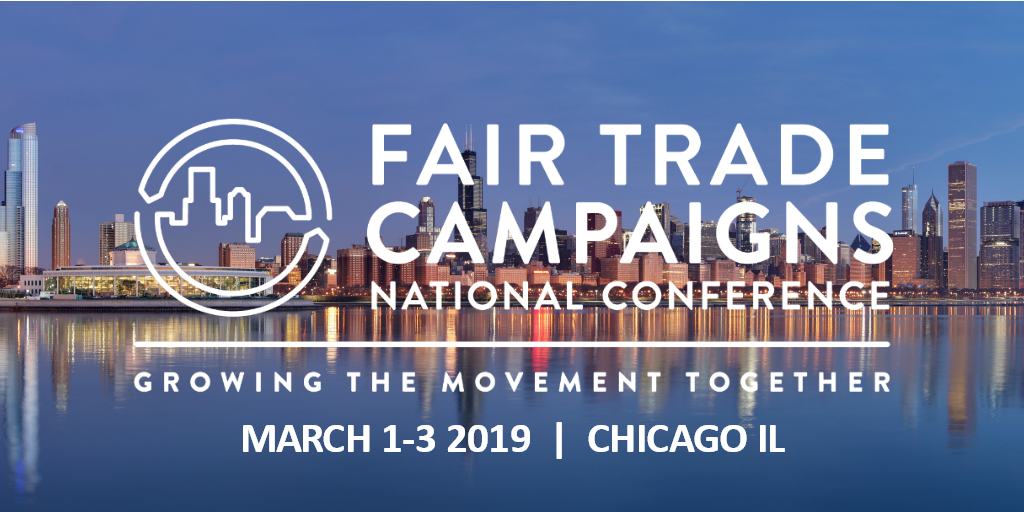 ---
This list just scratches the surface of everything that happened in the past 12 months. Thank you to everyone who made this year such a success, from our Fellows and volunteers, to our campaigners and partners. This work wouldn't be possible without your energy, commitment and ongoing support. We're excited to see what 2019 has in store!
From all of us at Fair Trade Campaigns,
warm wishes for a very happy holiday season and a bright New Year.