A Look Back at the 2016-17 Academic Year
As the 2016-17 academic year comes to a close, let's reflect on all of the progress that our college, university and K-12 school campaigns have made over the past year.
The Movement is Growing!
At the end of August 2016, Fair Trade Colleges & Universities started its 8th year with:
37 Declared Colleges and Universities
And Fair Trade Schools started its 4th year with:
As of July 2017 there are now:
44 Declared Colleges and Universities 
30 Declared Schools 
105+ Active College and University Campaigns
40+ Active School Campaigns
Lets dig a bit deeper…
To get the full picture of the work our Fair Trade champions accomplished over the past year, we sent End of Year surveys and reports to our College, University, and School campaigns. 90+ campaigns responded! Here's what we learned:
150: Total number of National Program events hosted on Fair Trade campuses including Fair Trade Your Finals and Valentines Day
72: Percent of Fair Trade Campaigns that partnered with other groups and initiatives on their campuses
274: Total number of events organized by Fair Trade Colleges, Universities, and Schools across the country (more than double the events hosted last year!)
11: Number of Fair Trade Campaigns with an average event attendance of above 80 people
5,532: Total number of attendees at educational Fair Trade events
9: Number of K-12 schools around the country that piloted our Fair Trade Lesson Plans
Our campaigns achieved a lot this past year – here are a few things that stood out:
Declarations 
Seven college and university campuses earned Fair Trade status since July 2016:
Along with two K – 12 schools:
Academy of Our Lady of Peace (San Diego, CA)
Emerald High School (Greenwood, SC)
Notable Achievements
As we've grown over the past year, many declared colleges, universities, and schools marked important milestones for Fair Trade Campaigns!
New Resources
In last year's End of Year Survey, many of you asked for more resources – and we heard you! Here are a few new resources to help your campaign succeed:
A Guide to Working with Dining Services
on Your Campus
Fair Trade in Your Classrooms
Lesson Plans (Grades 6-12)
Updated Fair Trade Product List 
Social Media 101 – Instagram Best Practices
Media Highlights 
With so many achievements throughout the year, several media highlights appeared across the country – here are a few noteworthy ones:
Quotes From Campaigners
When asked what their greatest accomplishments of the past year were, this was what our campaigners had to say: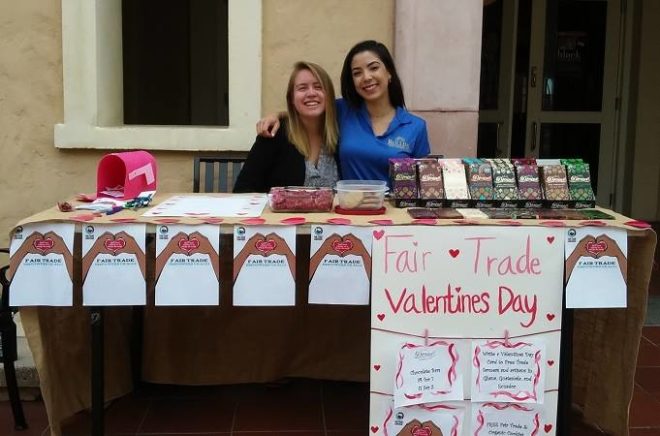 "The Valentine's Day event was a big hit at the dining halls. The students loved the chocolate and being able to write a message to the cacao farmers." – UNC Charlotte
"Our Fall Fair Trade Fashion Show! Sororities got involved and acted as models, which generated more attendance. We brought in Fair Trade business owners to have a panel after. It was a huge success, the presentations were great and the students were extremely engaged." – Loyola Marymount University
"Partnering with the local provider of Puro Fairtrade coffee in Westlake, Ohio. They have volunteered and sold/provided Fair Trade coffee and other items for several events on campus including Culture Night, our Fair Trade Market, and Habitat for Humanity's Building Walls Event. We held a Fair Trade Your Finals event both semesters this year and reached a lot of students who had never heard about Fair Trade or our movement." – Baldwin Wallace University
"We put on a Fair Trade Spa Night that was a huge success and engaged the wider campus community." – Keene State College
Looking Forward
2016-17 was a phenomenal year for Fair Trade Colleges & Universities and Fair Trade Schools. We can't wait to help you all achieve even more next year!  Keep an eye out for:
Guides and resources on how to stay engaged with Fair Trade after graduation
Launch of the Fair Trade Campaigns Alumni Network on LinkedIn (fall 2017)
Fair Trade Finals (fall 2017 and spring 2018)
Back to School program (fall 2017)
Take Action Now
Did your campus succeed but not get recognized? Have you had trouble gaining momentum? Head to the Fair Trade Campaigns Forum to either contribute your ideas and ask for advice!
What are you proud of? Share your Fair Trade successes in the comments below!